DREAMSCREEN PROSILENCE CLIPS
€8.00
Out of stock
You can automatically calculate the material requirements of our ProSilence clips, studs and U-boats using our AutoCalc >>.
---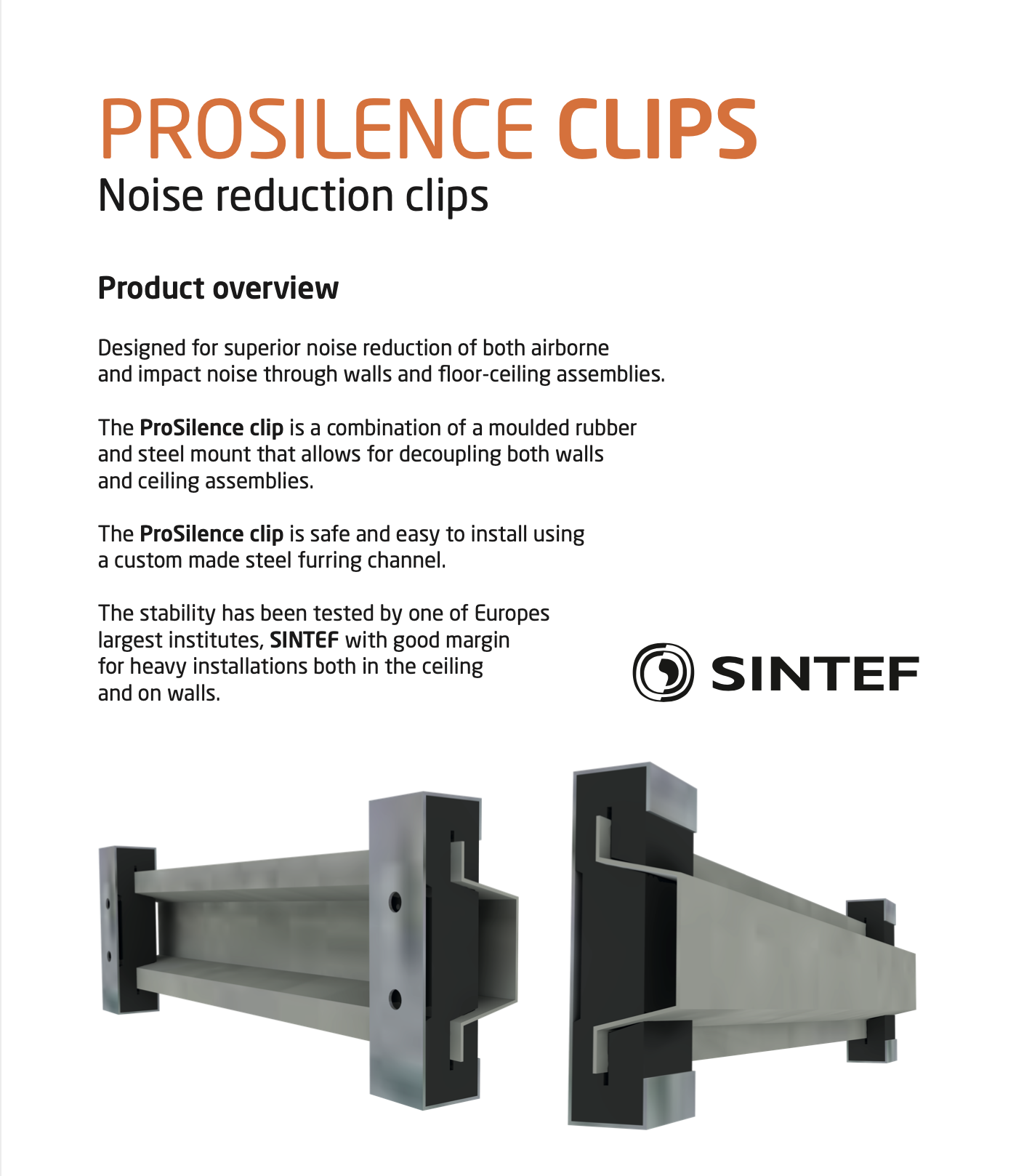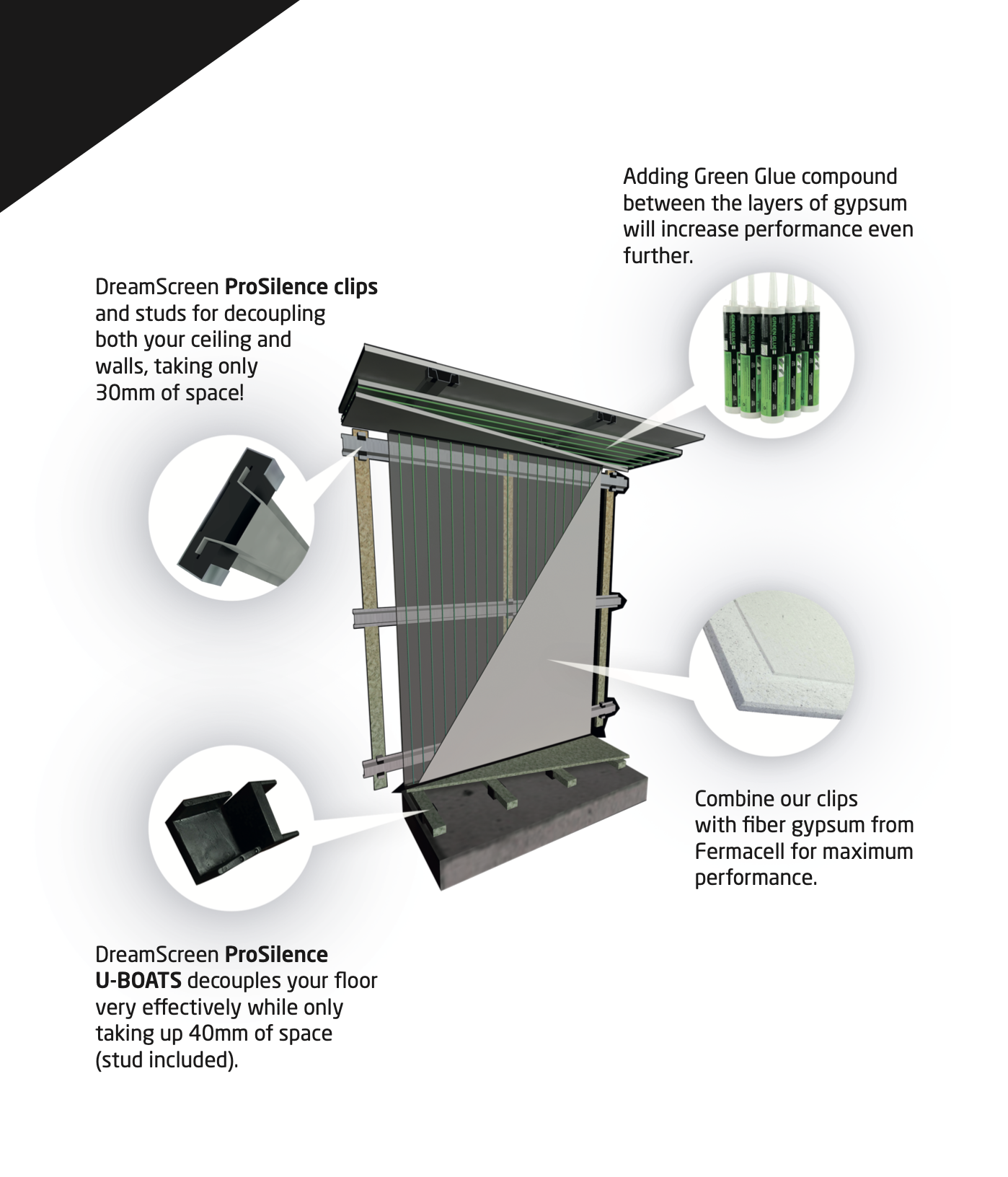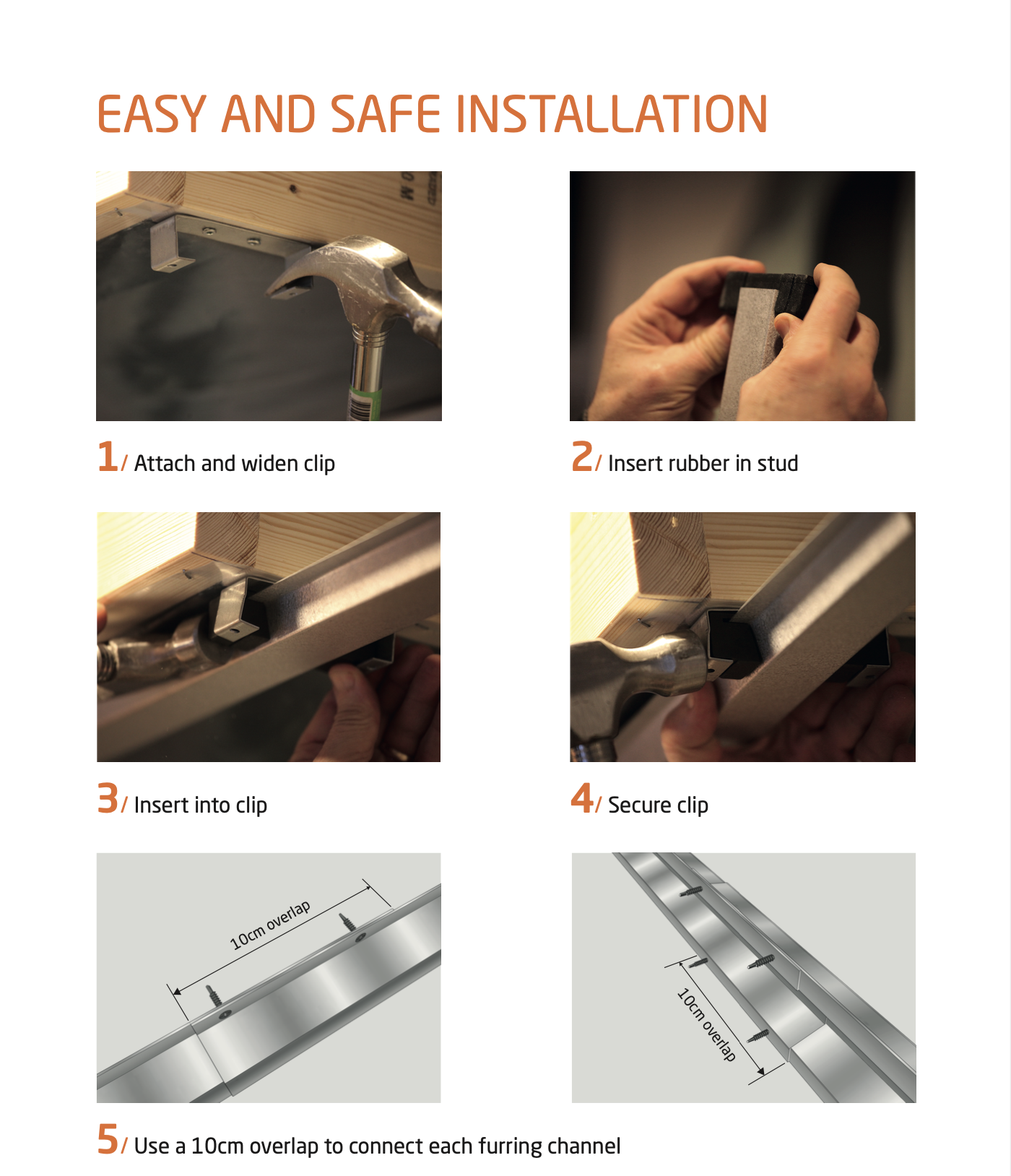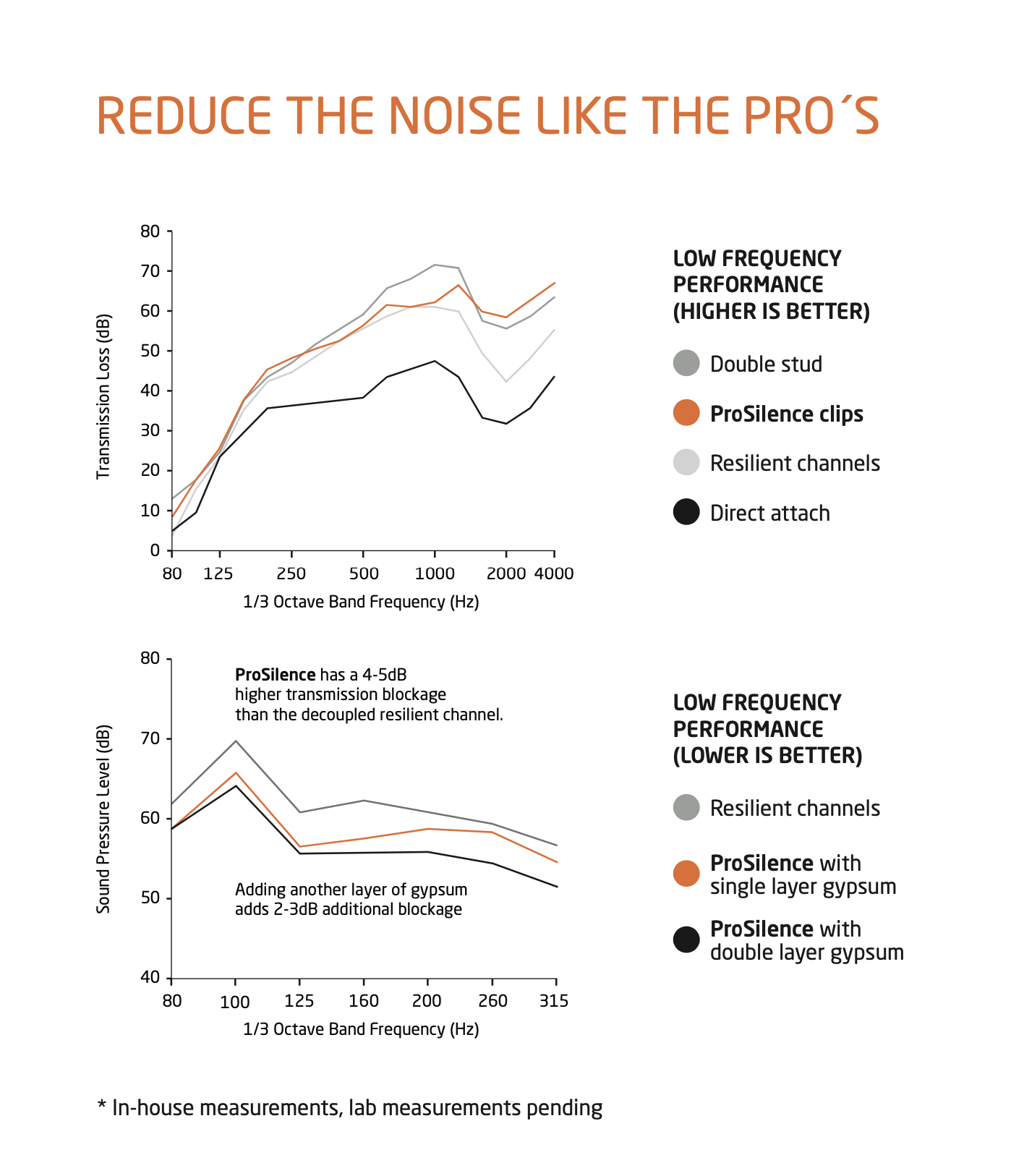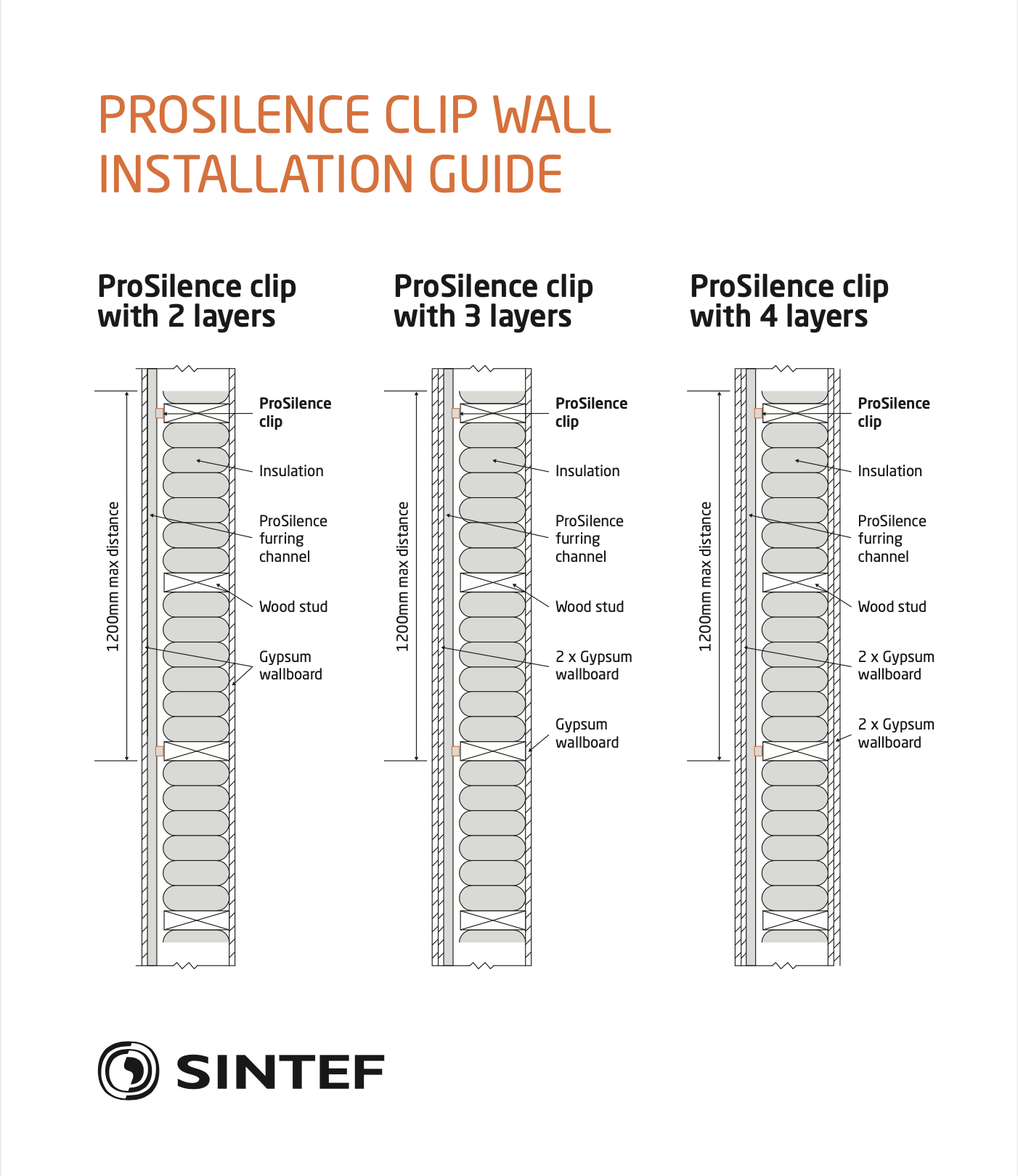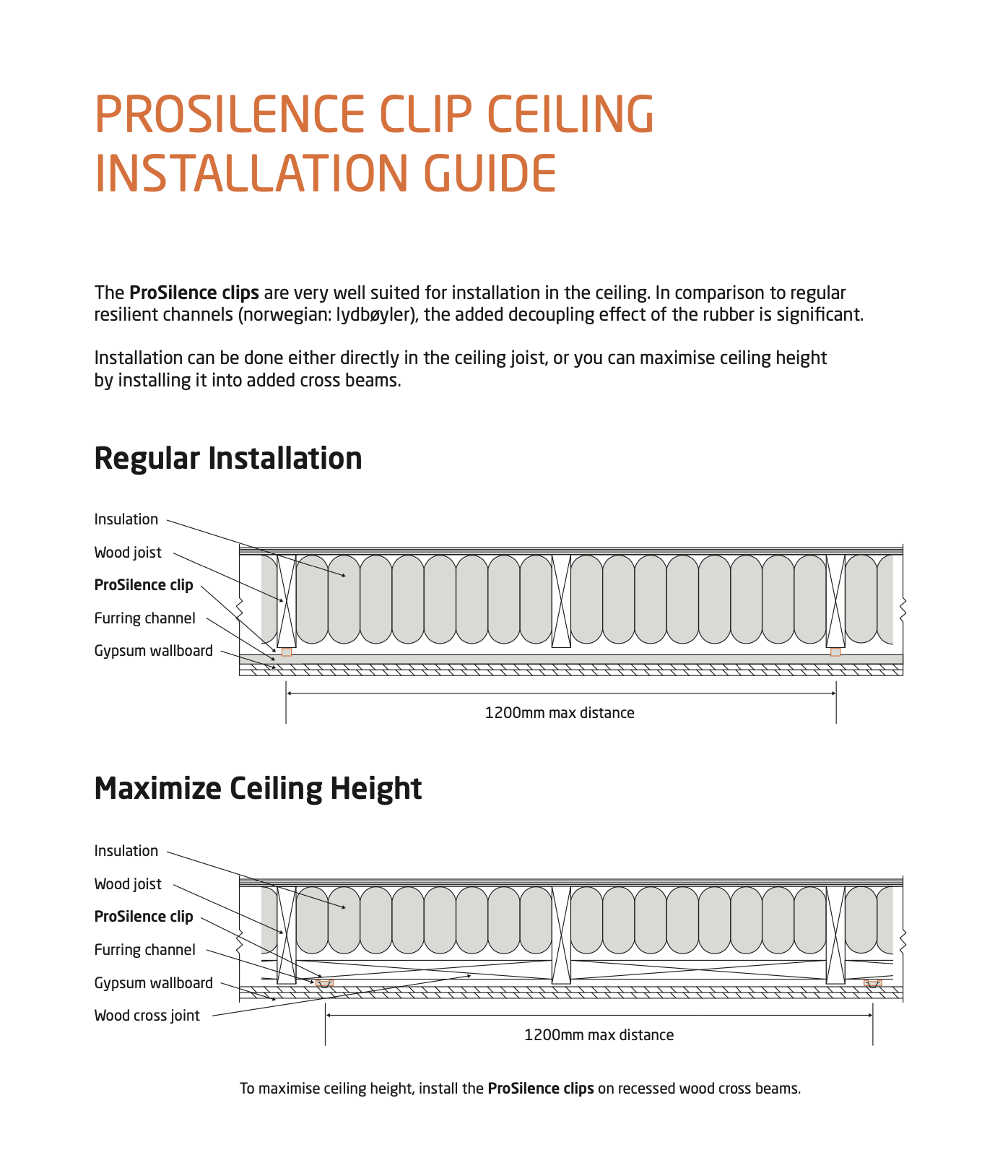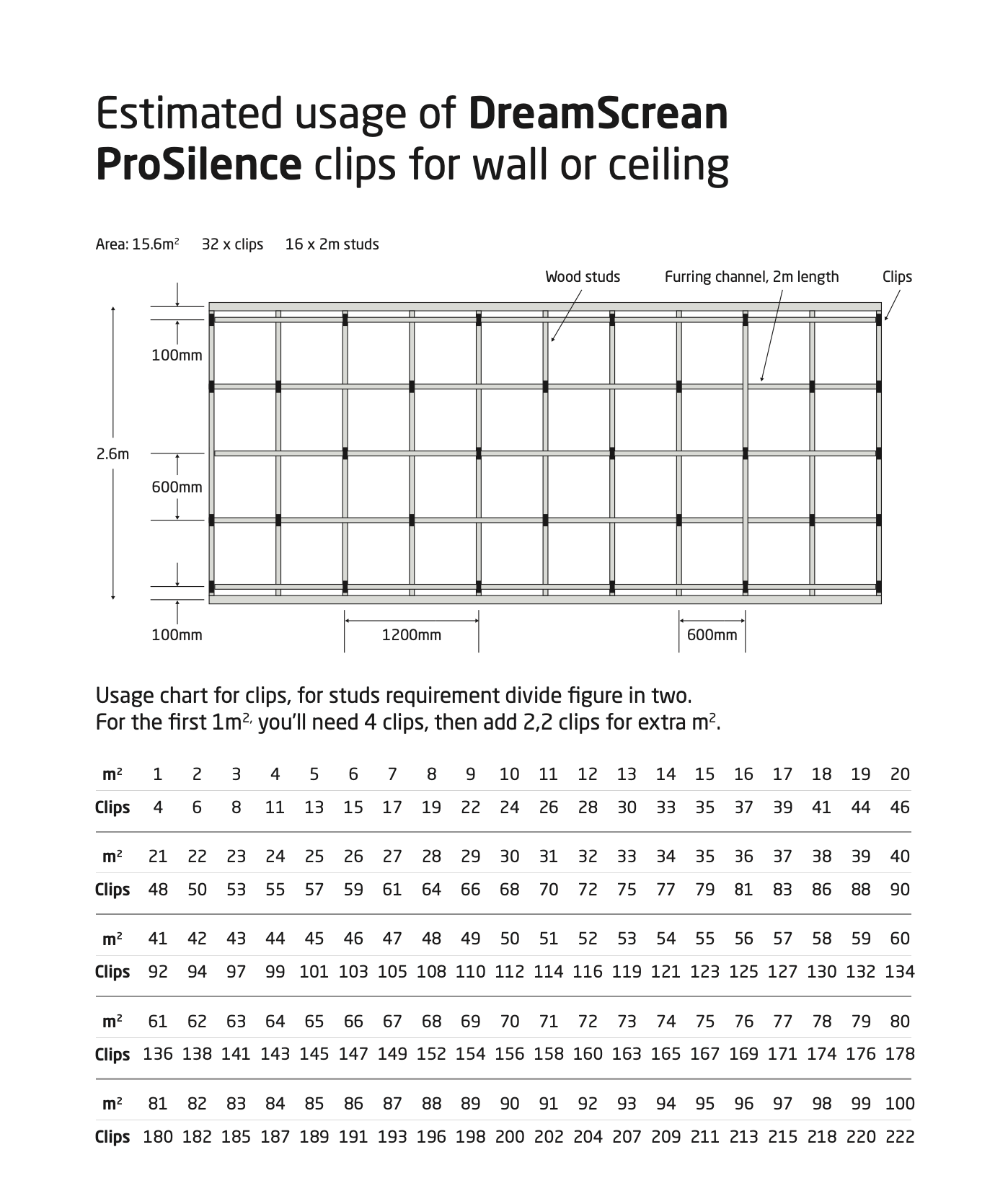 If you are looking for the best possible reduction of noise generated from your cinema room, recording studio or similar type of room there is simply no way around decoupling the floor, walls and ceiling. If you decouple, the sound is unable to travel as easily through the construction, reducing both high -and low frequency noise very effeciently.
Please note that in addition to decoupling the walls, ceiling and floor using our clips and U-boats you need to install a sound resistant door (or even two doors for maximum reduction of noise) as well as plan for ventilating the room as it will be 100% airtight. Please consult your local dealer for further advice.
When reducing the noise generated inside a room, there are three major things you can do to further improve the effect of the decoupling:
1. Add mass, such as adding a second layers of plasterboard
2. Add air, such as a deeper stud
3. Add insulation (if not already present)
The DreamScreen ProSilence Clips are extremely effecient in reducing the noise emitted from a room by using physical decoupling. The steel stud is decoupled without leaving any metal vs metal connections common on other clips (stud is totally covered in rubber) that potentially could make audible resonance at certain frequencies.
The clips are easy to install, and are suited for both ceiling -and wall installations. When installing the clips, please do not use more than two leafs, avoiding the so-called "Triple leaf effect", reducing the effect of the decoupling significantly. This applies also to four, five or any given number of leafs in excess of two. The Green Glue Company has made out an excellent guide in terms of explaining the issue of the Triple Leaf Effect here >>.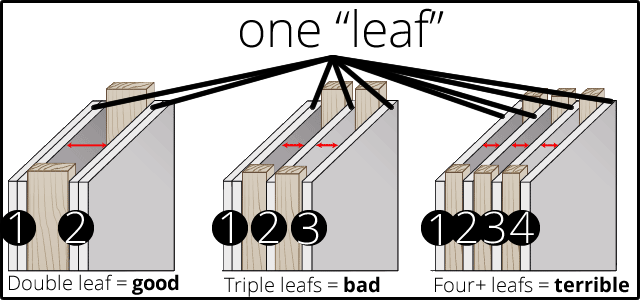 Please be noted that a massive concrete wall also is to be considered as one "leaf" and adding studs + clips + plasterboard on the inside room would functions in the same manner as the example above.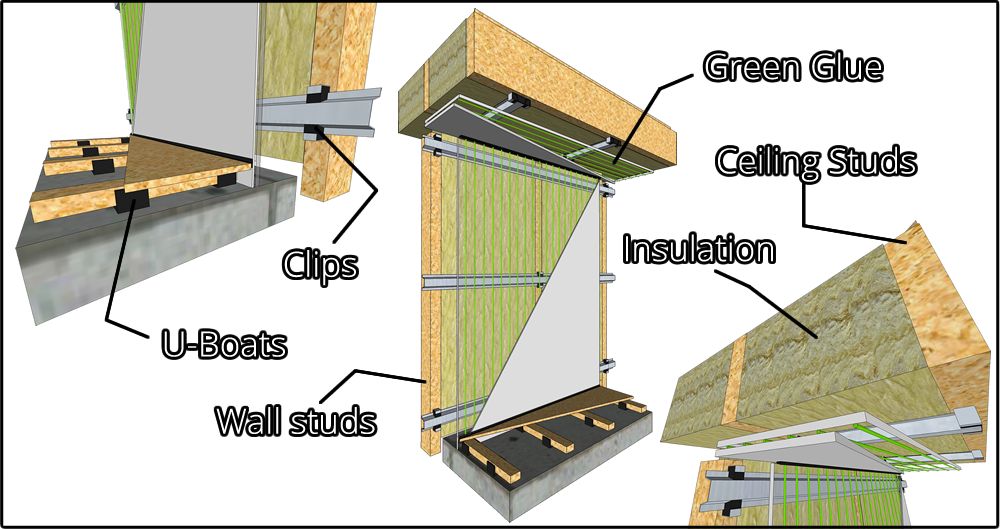 These illustrations displays the use of the DreamScreen ProSilence Clips in the ceiling and wall as well as the DreamScreen ProSilence U-Boats in the flooring for extremely effective decoupling. On the other side of the studs, both in the ceiling and walls, we recommend you use only one compact layer / leaf, however this layer / leaf may consist of several bonded panels of gipsum or consist of massive (light) concrete.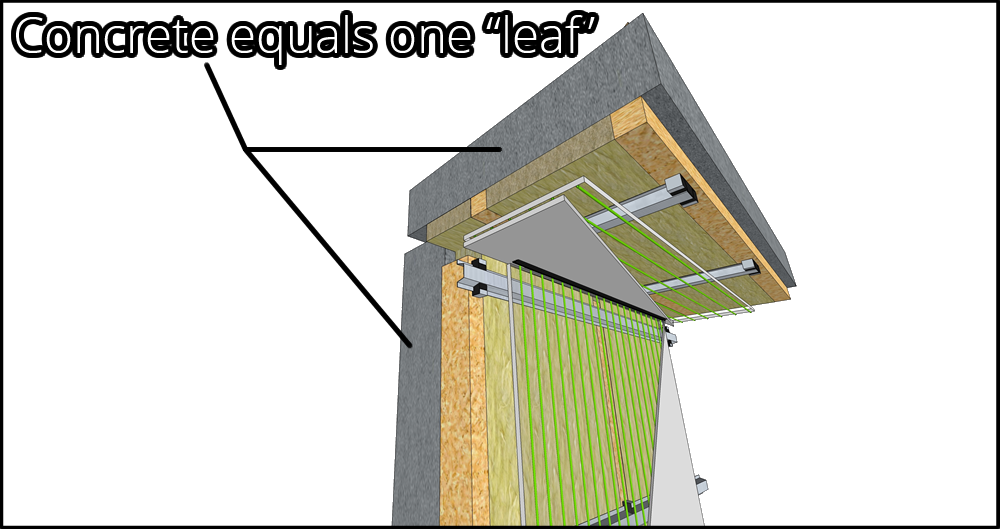 After you have installed the clips and attached the metal studs, we recommend using two layers of plasterboard, preferably with a vicoustic compound such as Green Glue in between. Also, please make sure you leave about 2mm opening on the top and bottom and seal this off with acoustical sealant.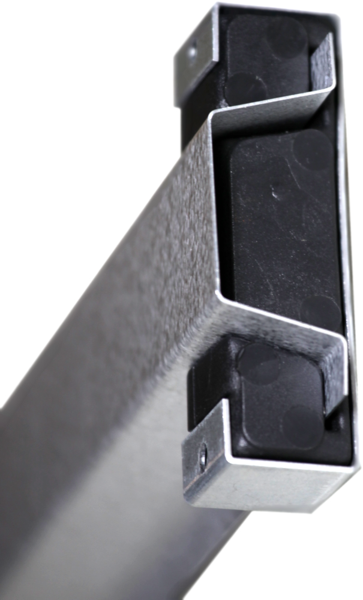 The system will require only 33mm of space before applying the plasterboard.
You need about 3 clips per square meter wall- or ceiling, and half that figure in 2m studs (i.e. 1,5 stud per sqm), please see the form below for calculating your estimated requirement.
Calculating the required quantitiy of clips and steel studs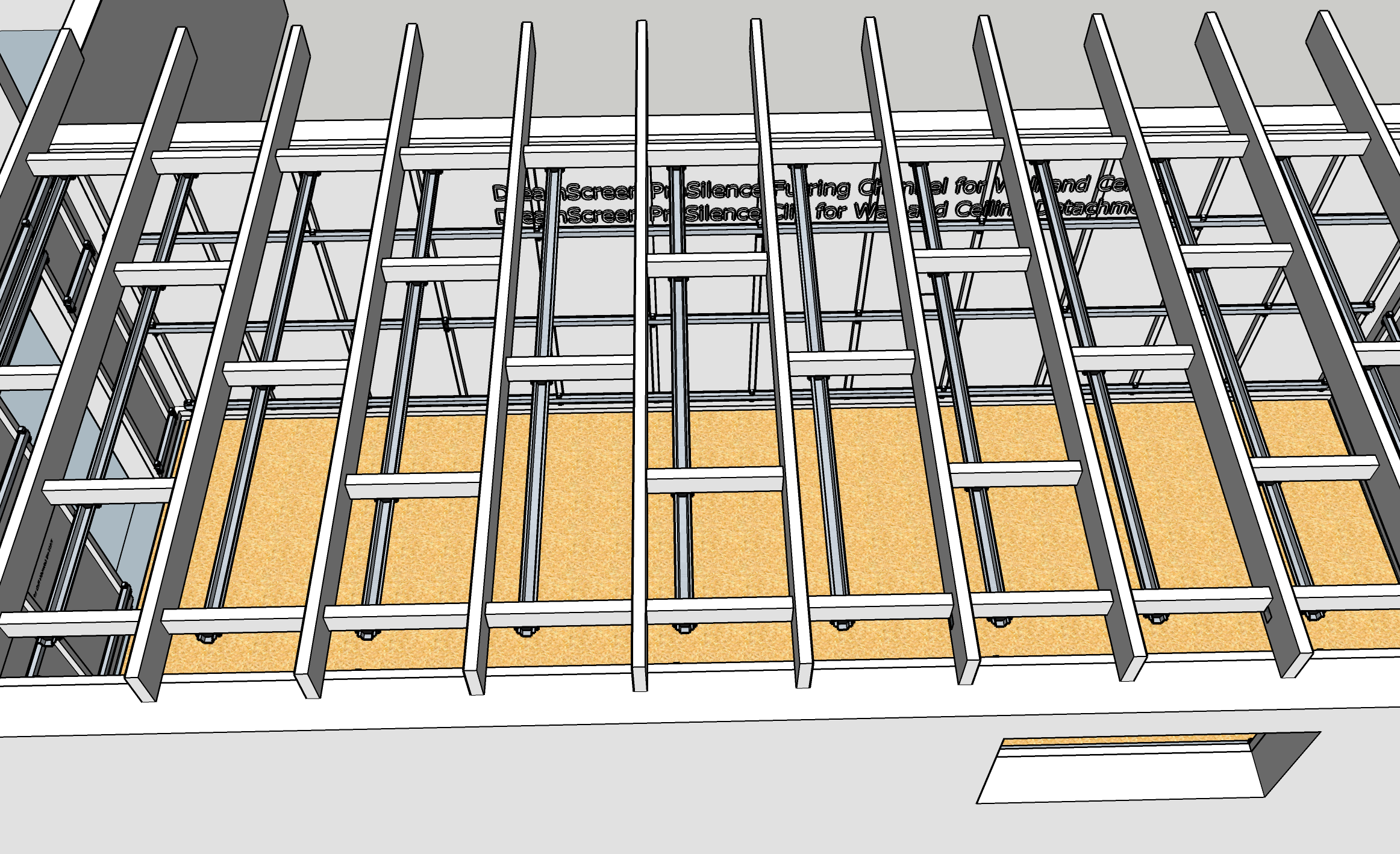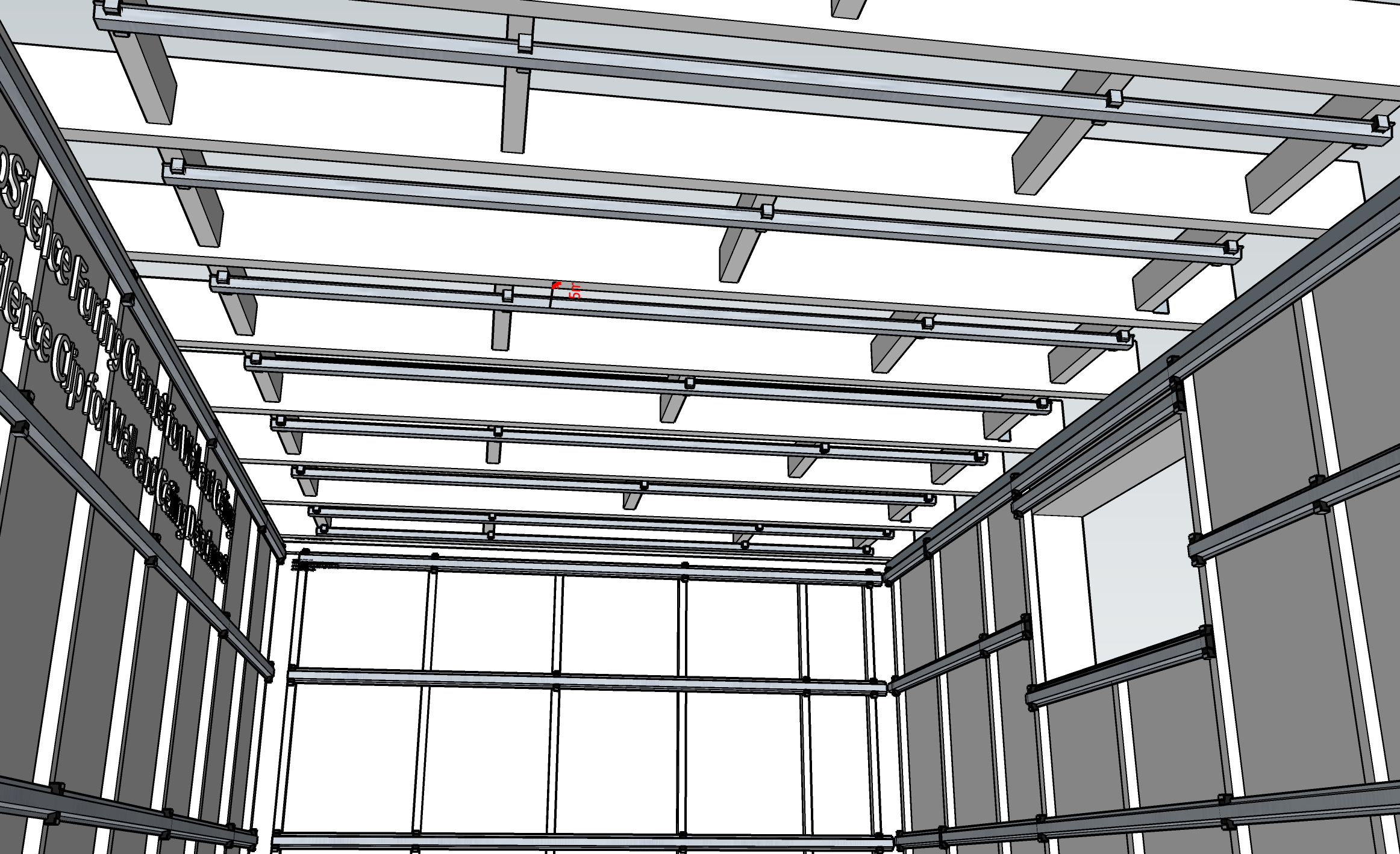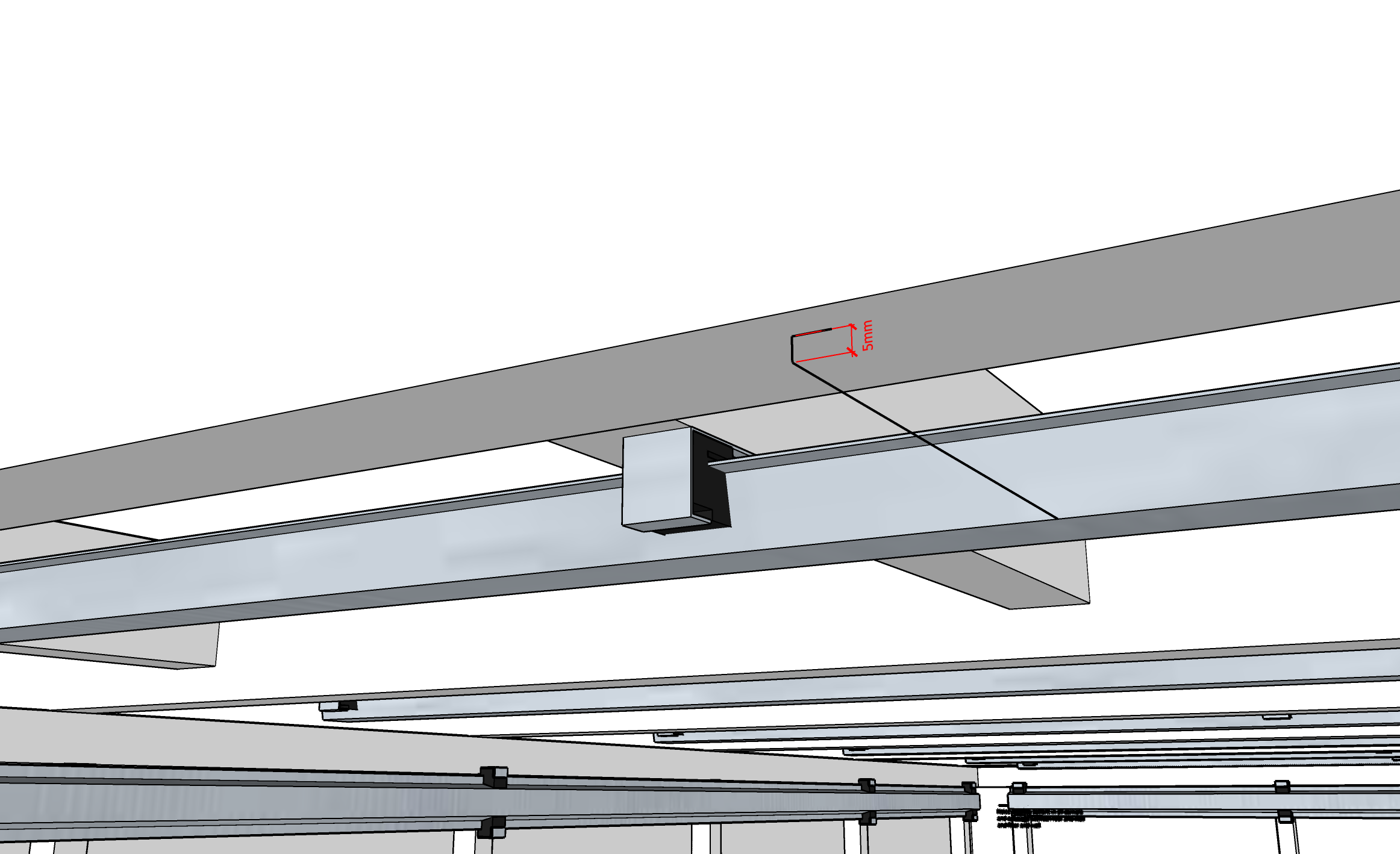 An alternative method to save 4cm ceiling space is to add studs between each wooden beam a little recessed so that only a slight section of the ProSilence studs emerges from the ceiling.